green roofs - green walls
Green Roofs – Green Walls
Sponzilli Landscape Group has designed and installed green roofs & green walls for some of the most distinctive properties throughout New York City and North Jersey.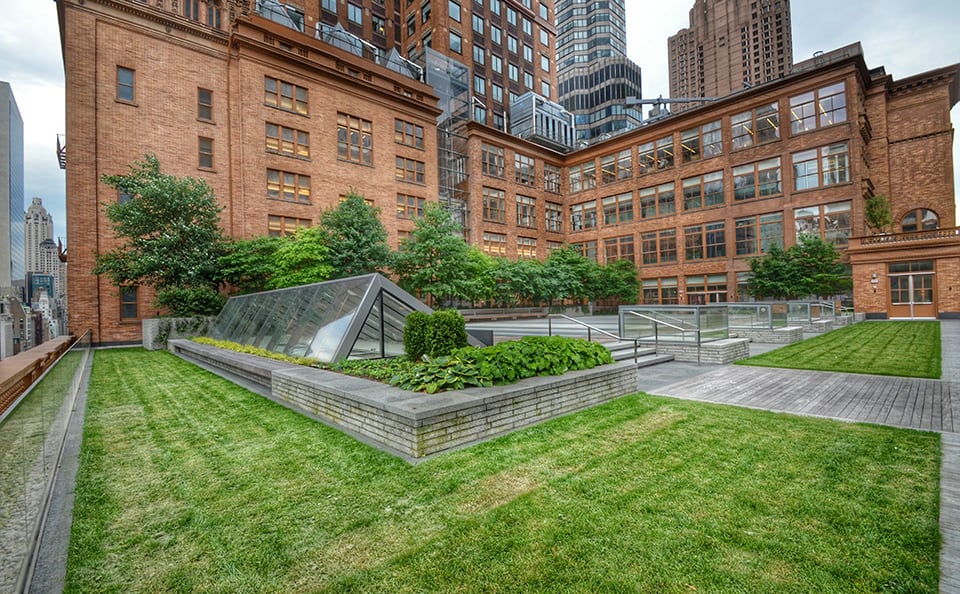 Green Roofs
Green roofs transform urban rooftops into environmentally-friendly green space. This improves air and water quality and provides an energy cost savings so significant that government subsidies are sometimes available to businesses to help with installation costs.
Our Urban Landscape Division's experience with the challenges of vertical landscapes enables us to custom match green roof project needs with the best available technologies.
Unlike traditional rooftop gardens that rely on individual containers and heavy planters, our green roof systems allow extensive plant cultivation over a wide expanse of the roof.
Green Walls and Vertical Gardens
Green Walls and vertical planting systems make a distinctive and dramatic visual statement. They improve air quality, reduce the temperature fluctuations at a wall's surface, provide thermal insulation for buildings, and offer aesthetic enhancements.
Sponzilli Landscape Group creates custom one-of-a-kind interior and exterior living walls and vertical gardens which combine unique engineering design with artistic expression.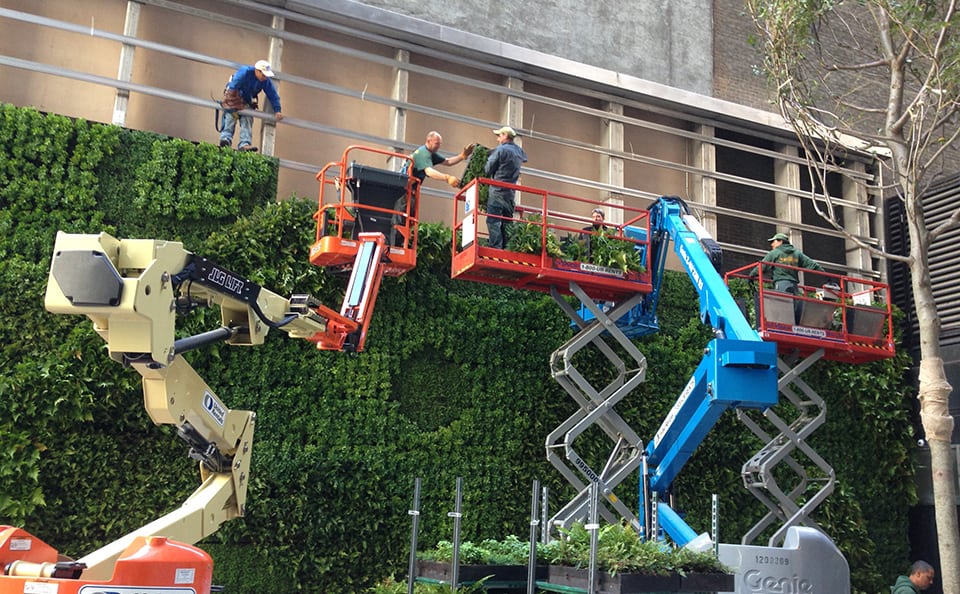 Our Green Roof Installation Team
Working with the design team landscape architects, LEED consultants, engineers, and architects) is our specialty.
We understand the critical submittal process from shop drawings to LEED certifications, and project coordination with general contractors.
We have extensive experience coordinating the necessary city permitting for green roof installation in some of the toughest, most sensitive areas in New York City and New Jersey.
Green Roof Maintenance and Warranty
As certified installers & contractors to ALL roofing manufacturers, Sponzilli provides cooperative, single-source, or custom warranty to ensure all work above the membrane is water tight and parallels the specified warranty.
Every Green Roof Program is customized to include Documented Tracking of Services Performed and the following services:
Weeding – Soil Infilling – Sampling
Drain and Edging Maintenance
Seasonal Plantings
Fertilizing, Pruning and Replacement
A growing trend in so many city centers, green roofs help to restore the ecological benefits which have been lost in a variety of ways, such as providing a micro-habitat for birds and insects. Green roof design and technology is a practical and worthwhile method for addressing some of our environmental concerns due to urban sprawl.
A green roof assists with city stormwater management, relieving overstressed sewer systems by reducing and delaying stormwater runoff and absorbing pollutants in rainwater. Heavy metals found in rainwater, such as lead, copper, and cadmium are reduced in the runoff, making a difference in water quality through drainage channels that run into nearby waterways. Sediment transport and soil erosion is further reduced by lessening and slowing down the rate of runoff.
Natural landscapes help reduce the urban heat island effect by lowering air temperatures. Artificial surfaces, such as asphalt and concrete cause air temperatures to rise in crowded urban areas. Green roofs also filter airborne dust and toxins. Carbon dioxide, for example, is absorbed through the grass and/or natural foliage, working to help clean the air. Even very small urban roof areas can make a difference. Sponzilli Landscape Group's goal is to help to make that difference with our green roof designs.
A most important benefit of a living roof is the reduction of heating and cooling costs. Due to increased insulation, the building will stay cooler in the summer and warmer in the winter, reducing energy costs and consumption.
The Trusted Source for Professionals
Numerous General Contractors, Architects, Landscape Architects, and Property Managers depend on us for exacting detail and creativity.