Commercial Landscape Contractor in NYC and North Jersey
As a commercial landscaping contractor, our goal is to provide the highest level of service in the industry and we're known for the quality of our work and genuine commitment to our clients.  After 50+ years, we continue to create commercial and residential landscapes in NJ and NYC that truly Stand Apart.
This landmark urban Sponzilli Landscape project called for intricate custom paver installation, elaborate IPE woodwork, seating, decking, over 2,000 cubic yards of engineered soil, 5,000+ perennials and plantings, and 7" caliper specimen trees craned to rooftop positions.
Brooklyn's own urban oasis with 34,000 square feet of landscaping, waterfront access, 25,000 square feet of outdoor amenity space, a landscaped waterfront sundeck, a landscaped roof garden, herb and vegetable garden, a tranquility garden and two rooftop swimming pool surrounds.
Across 6 acres, Hudson Yards has 26,000 plants consisting of different size plantings, expansive perennial gardens and over 200 mature trees. Specially engineered soils were used to provide essential nutrients and ideal drainage conditions for the plants.
This landscape construction project includes two rooftop amenities; a garden oasis with mature specimen trees, naturally inspired plantings of perennials, greenery, grasses, and wildflowers in specially engineered soil designed for this green roof installation.
One of mid-town's most important green space initiatives, this urban landscape project spans 2.6 acres, and included 200 trees of 20 different species, perennial gardens, expansive lawns, water features, lush plantings, walking paths and an expansive playground.
Sponzilli's part in this ambitious waterfront project was to design and install a unique green roof assembly for the elevated park. This included bringing in soils, geotextiles, and washed bluegrass sod. A fully integrated irrigation system was also installed.
Staten Island Fresh Kills Park
An urban landscaping phenom, Freshkills Park is the largest park developed by NYC since the 19th century, featuring the largest grassland region in the city, hundreds of trees and the natural and engineer beauty of trails, creeks, wetland integration and sustainable landscape design.
Bayonne Golf Club
Another first in the history of environmental landscape projects, the Bayonne Golf Club spans from riparian lands to the masterfully designed Eric Bergstol landscape. This legendary repurposing of an urban sanitary landfill is an unrivaled feat of urban commercial landscape design and installation.
James Hotel
An award-winning Sponzilli Landscape Group installation, the James Hotel boasts lush New York gardens filled with grass and botanicals, an expansive outdoor garden bar & restaurant with park-like surroundings, and a stunning rooftop pool deck, bar, and lounge that offers amazing views of the city.
Barnard College
Winner of a national design competition, the Barnard College Diana Center project unites landscape and architecture. The design achieved LEED Gold certification, connects the Lehman Lawn to the upper floors of the building and the green roof and features a renovated landscape of garden terraces.
Liberty National Golf Club
100 years of industrial sins as an oil refinery and Army base were transformed into a world-class PGA Golf Course. This project features gorgeous landscaping, extensive grasslands, over 5,000 planted mature trees, rock-lined streams, lakes, and waterfalls.
NY Genome Center
The NY Genome rooftop garden embraces a wonderful view of the Empire State Building while acknowledging the green roofs unique microclimate. This mid-town roof garden, planted in specially formulated green roof engineered soil, covers over 10,000 sf of outdoor space, overflowing with perennials, plantings, native grasses, and specimen trees.
Commercial Landscape Construction
We specialize in commercial landscape construction and our goal is to help attract attention to your business and create a landscape design that best fits your company profile and needs — a design that is sustainable, manageable, artistic, aesthetically pleasing, and well adapted to your property.
The greenwich lane condominiums
Commercial Landscape Maintenance
Sponzilli provides commercial landscape maintenance services to some the nation's most recognizable companies.  From weekly maintenance to seasonal color displays, we handle every aspect of a company's landscape including all the services, products, care, and supervision to keep the landscape looking its best.
Green Roof – Green Wall Installation
Sponzilli Landscape Group has designed and installed green roofs & green walls for some of the most distinctive properties throughout New York City and North Jersey. We transform urban rooftops into environmentally-friendly , sustainable green space.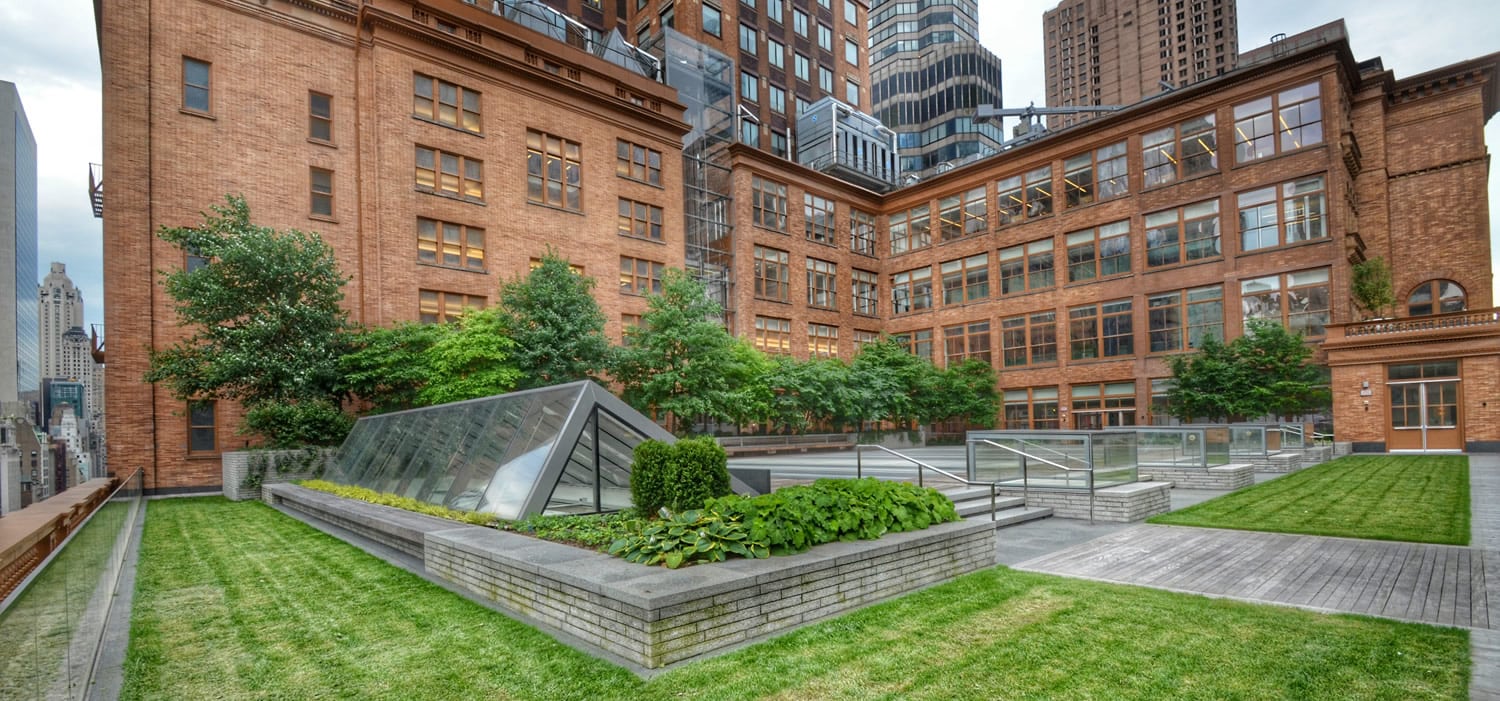 Carnegie Hall - Weill Rooftop Terrace
NYU Langone Medical Center
Urban Landscaping
Urban landscaping and construction require experience and expertise. Sponzilli is the landscape contractor of choice to expedite the many complex logistics of restrictions, ordinances, permits and zoning requirements necessary to bring an accessible and functional urban landscape to life.
Snow Management
Our commercial snow management team has the manpower and snow removal equipment to handle extended periods of severe weather. We maintain state-of-the-art communications and dispatch.
Hydroseeding | Erosion Control
Our sister company, Hydroseeding Pro has a national reputation for supporting the demands of general contractors, green industry companies, engineers, architects, and government authorities. We provide innovative solutions for erosion and sediment control needs and wetland mitigation.
Uncompromising Quality and Industry-Leading Experience Set Us Apart
Greenwich Lane West Village Residences – NYC
Seaside Park – Coney Island
World Trade Center Liberty Park Living Wall
The Trusted Source in Landscaping
Creating commercial landscapes of lasting beauty and value.
We provide solutions to landscaping issues unique to the urban environment.