Hudson Yards
Waterline Square Park
Staten Island Fresh Kills Park
Bayonne Golf Club
James Hotel
Barnard College
Liberty National Golf Club
NY Genome Center
NYU Langone Medical Center
Commercial Landscape Contractor in NYC and North Jersey
As a commercial landscaping contractor, our goal is to provide the highest level of service in the industry and we're known for the quality of our work and genuine commitment to our clients.  After 50+ years, we continue to create commercial and residential landscapes in NJ and NYC that truly Stand Apart.
Uncompromising Quality and Industry-Leading Experience Set Us Apart
Greenwich Lane West Village Residences – NYC
Seaside Park – Coney Island
World Trade Center Liberty Park Living Wall
Landscape Construction
We specialize in commercial landscape construction and our goal is to help attract attention to your business and create a landscape design that best fits your company profile and needs — a design that is sustainable, manageable, artistic, aesthetically pleasing, and well adapted to your property.
The greenwich lane condominiums
Landscape Maintenance
Sponzilli provides commercial landscape maintenance services to some the nation's most recognizable companies.  From weekly maintenance to seasonal color displays, we handle every aspect of a company's landscape including all the services, products, care, and supervision to keep the landscape looking its best.
Green Roofs | Green Walls
Sponzilli Landscape Group has designed and installed green roofs & green walls for some of the most distinctive properties throughout New York City and North Jersey. We transform urban rooftops into environmentally-friendly , sustainable green space.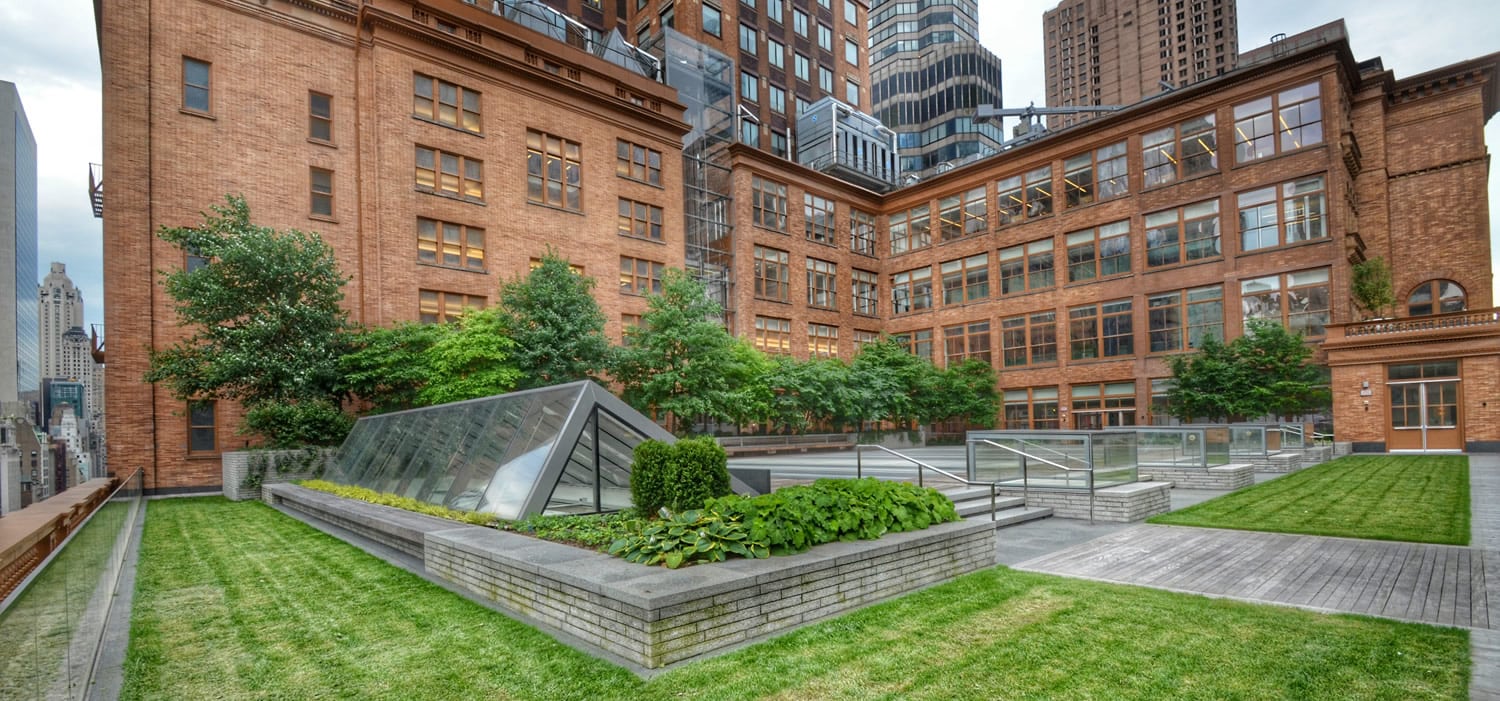 Carnegie Hall - Weill Rooftop Terrace
NYU Langone Medical Center
Urban Landscaping
Urban landscaping and construction require experience and expertise. Sponzilli is the landscape contractor of choice to expedite the many complex logistics of restrictions, ordinances, permits and zoning requirements necessary to bring an accessible and functional urban landscape to life.
Snow Management
Our commercial snow management team has the manpower and snow removal equipment to handle extended periods of severe weather. We maintain state-of-the-art communications and dispatch.
Hydroseeding | Erosion Control
Our sister company, Hydroseeding Pro has a national reputation for supporting the demands of general contractors, green industry companies, engineers, architects, and government authorities. We provide innovative solutions for erosion and sediment control needs and wetland mitigation.
The Trusted Source for Professionals