What goes into making a truly entertaining outdoor space? Lush greens and brightly colored flowers… a pool? Or is it the amount of seating options that you have? Summing up what makes an extraordinary entertainment space can't be narrowed down to one or two things.
1. Plants, Trees, Shrubs, Flowers, and Grass
They all bring life and color to your entertaining space. Unlike most of the other items on this list, the plants in your yard can be changed according to season which will create intrigue and nuances in your surroundings. Pick select areas in your outdoor area that you want to highlight and plant bold colored flowers or shrubs to rein in people's attention.
2. A Swimming Pool
Don't let the naysayers make you doubt it…having a pool in your yard IS like having a little piece of your own heaven. Cool off, have fun, get exercise, it really doesn't matter- pools are amazingly fun for kids young and old.
3. An Outdoor Fireplace
Constructing a fireplace or fire pit will allow you to entertain long into the night and throughout more of the seasons. A fire element can be used to brighten up the night, cook food, stay warm or keep the bugs away.
4. An Outdoor Kitchen
By creating an outdoor kitchen you will be able to keep the entertainment going while you cook. Include a refrigerator in your setup and eliminate trips into the house on hot summer days to get drinks.
5. An Outdoor Pizza Oven
Why go out for brick oven pizza when you can make it yourself! And pizza isn't the only thing you can cook; use your brick oven as a grill and roast vegetables, cook meat or make a doughy dessert.
6. An Outdoor Bar
Build a bar area into your outdoor kitchen or any space in your landscape and experience the feeling of living at a luxury hotel. Make the bar a part of your pool and see how much fun you can have just staying in the water the entire day.
7. Dining Area and Seating
Why go inside to eat when the weather is this nice? Keep the house from becoming a mess and stay outside to eat your brick oven pizza! Create several areas in your space with seating and/or tables so that guests can feel comfortable and break off into groups for smaller conversations. Or, have the kids sit by the pool while you enjoy your soft, cushy chairs near the fireplace.
8. A Pergola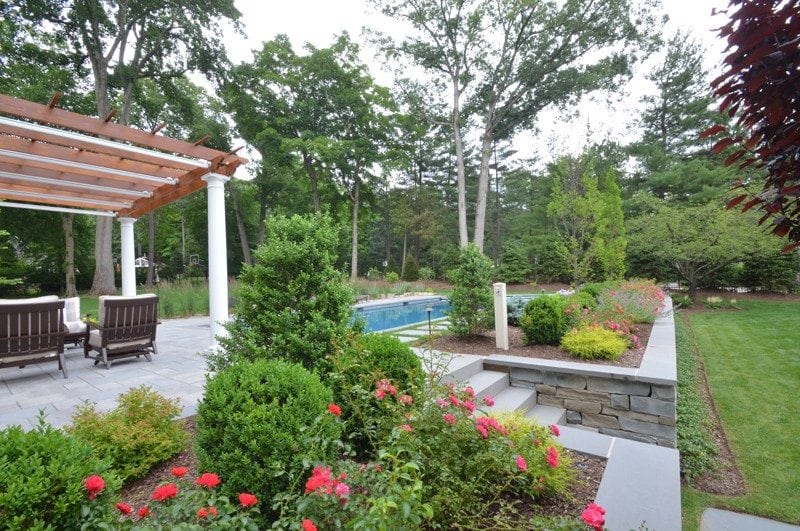 Create shade from the sun and cover from the elements by building a pergola or pavilion. On hot summer days getting out of the sun, in between dips in the pool, can be a necessity. Give yourself a place to enjoy the beautiful weather out of the harsh rays.
9. Water Features
If you want to relax, you need a water feature. Few things can drown out background noise like the trickling sound of a fountain. Establish an ornate or naturalistic focal point with a flowing waterfall or pond with aquatic life.
10. Landscape Lighting
Illuminate your outdoor space to make it useable and safe well into the evening hours. Spotlight an area where there is a water feature or create ambiance in a seating area to engage your guests. Landscape lighting has the ability to make all of the best attributes of your landscape shine and stand apart.