A sensory garden is a garden space designed to stimulate and engage all the senses. Bright, colorful plants with varying textures and fragrances combine with elements of sound to create an engaging environment to help relax, stimulate, and teach. Sensory gardens provide an opportunity for disabled and non-disabled visitors, young and old, to experience joy and relaxation in settings and conditions that they may not typically experience. Especially beneficial to children and adults with sensory processing issues such as autism or other disabilities, sensory gardens are gaining popularity with schools, businesses, hospitals, and communities.
How Sensory Gardens Help 
People with sensory processing disorders often have intense reactions to stimulation, either too much or too little, and a sensory garden provides a calm, safe, gentle environment to explore the senses without being overwhelmed. Depending on the needs of the primary users, gardens can focus on a single sense or incorporate several, featuring plants and elements which create the most beneficial atmosphere.


Sensory gardens have proven therapeutic value, offer health benefits, such as reducing stress and lowering blood pressure, and help keep Dementia and Alzheimer's patients calm and engaged. A relaxing garden environment may calm hyperactive individuals, and a stimulating design will arouse the senses of those that tend to under-react to stimuli.
A sensory garden is a great way for children to learn about their senses and the environment around them. It helps children get out in nature and become inquisitive about discovering new things in their surroundings. Schools and community centers are utilizing sensory gardens as a part of their curriculum to teach in a more "hands-on" approach.
How to Design a Sensory Garden
Sensory gardens are meant to be explored. Take time to think about each element that is going into the garden and how it can develop the senses. Consider the layout of your design including walkway space, height of plants and lighting.
Sensory gardens, designed with the user's ages and abilities in mind, incorporate several elements to provide accessibility and encourage the interaction of users.
Raised beds are more accessible for disabled or elderly users.
Install kneelers and railings around low garden beds for easy access and safety.
Go vertical in your garden with hanging baskets and wall installations.
Create comfortable seating, including armrests, and adequate space for wheelchairs.
Wide, winding, walkways are wheelchair accessible and create focal points, inviting users to slow down and explore.
Use properly graded slopes instead of stairs for better accessibility to people of all ages.
Create a quiet space that overlooks the garden to set a relaxing tone.
Utilize a variety of flowers and produce to harvest and share.
What Goes into a Sensory Garden 
Appealing to the senses with flowers, shrubs, herbs and other landscape features is the most important part of any sensory garden. Native plants are always a good choice to use because they are less susceptible to disease, used to the environment, and typically have lower maintenance needs. Choose vegetation that will beguile people's ears, eyes, fingers, noses and taste buds.
Sound
Utilizing native plants will welcome buzzing bees, chirping crickets and singing birds. Additionally, ornamental grasses and bamboo create a unique sound when wind blows through them. Get creative with windchimes made of a variety of materials for a calming effect.
Touch
All plants have their own unique feel which makes this category easy to accomplish. Think outside-the-box for a real variety to tickle touch's fancy. The soft feel of lamb's ear or Stachys bvzantina "Big Ears" would contrast nicely with the papery sensation of Physalis alkekengi. Moss, Cape Sundew, Yarrow, Feather Grass and Coneflower are also good additions. Water features heighten multiple senses and can be installed as a fountain, fish pond, or waterfall.
Smell
Smell can trigger a wide range of emotions. Consider a combination of scents that will work well together but that are individually distinguishable and unique. It's helpful to remember that some plants naturally release their scent, like roses, while others need to be touched to release their fragrance, such as geraniums. Choose your plants carefully and make sure some of your favorites are near the entrance for an inviting scent. Some good options are: gardenia, honeysuckle, mint, thyme, lavender, and chocolate cosmos.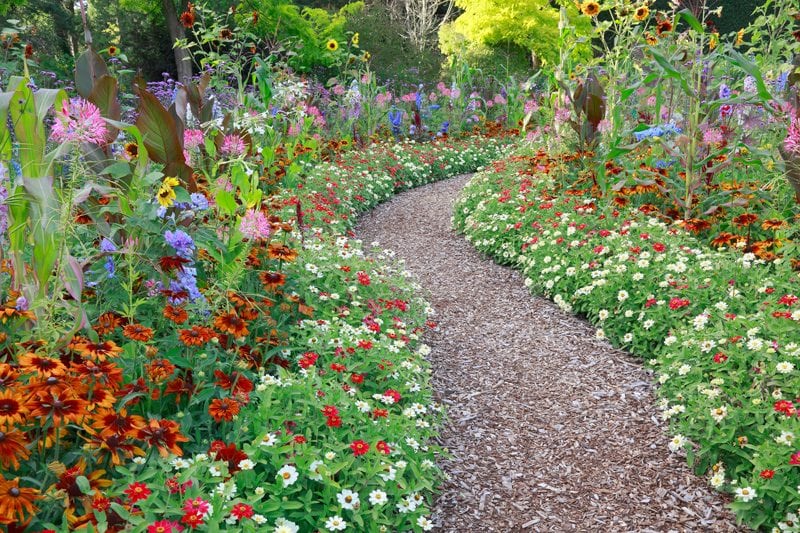 Sight
Visual interest can be added to a sensory garden in many ways. Utilize the habits of how plants grow such as those that climb, creep, or stand up right, to make your garden visually appealing. Get creative with color and utilize hues from different areas of the color spectrum in the plants you choose. Remember to carefully plan the color of hardscaping materials used in your design to ensure that the red bricks or blue stone jump out at the eye.
Taste
Fill your garden with fruits, herbs, spices, vegetables and edible flowers. Be sure to differentiate areas with eatable plants versus plants that contribute only to the sensory garden's aesthetic appearance so as not to confuse guests who visit your space.
Whether for yourself, a loved one, or public use, consulting with a professional, will ensure a carefully designed and planned sensory garden that will engage and excite all the senses. Sponzilli's has the highest standards in landscape design, construction, and maintenance as well as extensive experience with detailed design projects, community gardens, and sensory gardens.
Research suggests that natural environments improve physical and emotional health.  Sensory gardens provide the perfect setting for relaxation, meditation, education, and therapy. A consultation with Sponzilli Landscape Group's award-winning team will ensure a result that far exceeds your wildest expectations. Contact us for more information about your landscaping needs.