This blog covers everything about landscape maintenance plans and why they work best. We'll talk about exactly what's included in estate management and the services provided.
A landscape maintenance plan is crucial to every property. It provides longevity for the beauty of your landscape. No matter the season, there are benefits to choosing an estate management plan that is right for you.
We all want lively yards with blooming, cascading flowers, and fresh-cut green grass. But it takes a lot of maintenance to keep a yard looking healthy and vibrant.
There's good news though, a landscape management plan can take the work off your hands. Even better than that, it will keep your property looking its best year after year. Think of it as a formal outline of all your property goals.
What Can a Landscape Maintenance Plan Do for You?
A maintenance plan provides essential services to keep your yard healthy and thriving. It should focus on adding beauty to your landscape each year while providing safety.
The top advantages of having a landscape maintenance plan include: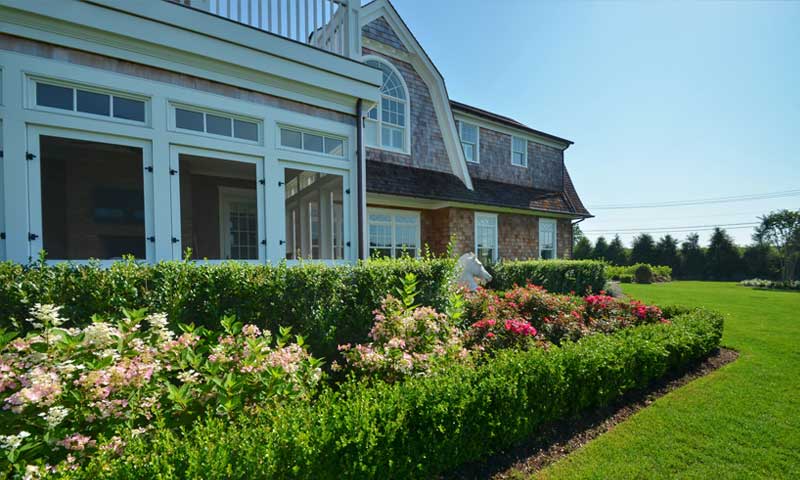 Plant selection is an important part of landscape maintenance. Softscaping, or plant installations, look their best when they complement hardscape elements. For that reason, choosing plants that elevate your landscape design is crucial.
Your landscape maintenance provider should have expert knowledge of native plants. They are beneficial for you, your yard, and the environment.
Native plants need less overall maintenance because they are suited to grow in your area. They also attract wildlife to pollinate your landscape and keep it healthy.
Your service provider can also help you avoid non-native and aggressive plants. These types of greenery can run rampant and quickly take over your space.
Proper irrigation will water your property effectively and efficiently. Knowing the right way to water will ensure the health of your landscape.
An estate maintenance plan includes access to robust irrigation technology and assistance.
You won't have to worry about de-winterizing your irrigation system or checking the lines for leaks. Your landscaping expert will know when and how to accomplish these tasks correctly.
A quality tree care program incorporates both installation and maintenance for longevity.
Plant placement is particularly important when installing trees. Size is a major factor that should be carefully considered before planting. An expert will know how tall and wide specific species of trees will grow.
Your shrubs and trees need proper care to give their appearance a boost. Pruning and trimming your garden is important. It makes room for new growth and directs energy to robust parts of plants.
It also removes dead and dangerous branches. A plan helps to accomplish these tasks during the time of year that will allow your plants to thrive.
Trees are very susceptible to damage. Especially during the harsh winter seasons when snow can weigh them down. Having an estate maintenance plan in place means your trees will receive regular inspections for damage and safety.
Ongoing plant maintenance and proactive identification of disease are vital for your trees.
Scheduled Weekly Maintenance
Enjoy a beautiful landscape without any of the work. Your time off is for relaxing not mowing the lawn or watering flowers, right?
One of the best features of an estate maintenance plan is the weekly service. Scheduled landscaping services ensure your property stands apart.
Some of the basic services included in a plan are mowing, edging, trimming, and leaf removal. But each yard is different which is why we tailor all our plans to meet our client's needs.
Ask your landscape professional about maintenance that incorporates lawn spa treatments, pest control, and power washing.
Landscape companies that want to offer their clients superior service provide an account manager. Account managers create custom landscape plans based on your property and preferences.
Your manager will also oversee your budget and enforce every step in your landscape maintenance plan. They have time and organizational skills to ensure your landscape is maintained correctly.
Having an account manager means direct contact with someone who can address your questions and concerns.
What is Included in a Landscape Maintenance Plan?
Now that we've gone over the advantages of having an estate maintenance plan, let's discuss the services provided.
Did you know a well-maintained landscape can increase your property's value by 7%?
In fact, adding curb value to your home makes a huge impact if you're trying to sell.
But good lawn care doesn't just improve property value. It also boosts your landscape's air, water, and soil qualities by:
· Absorbing pollutants like dust and soot from the air
· Collecting and managing rainfall
· Preventing erosion from water and wind
Your lawn needs regular clean-ups to promote fresh growth. Lingering old debris will prevent plants from getting the light, water, and air they need.
Scattered leaves, fallen branches, and poorly maintained garden beds are eyesores. In addition to helping your plants flourish, property clean-ups beautify your landscape.
Improve Your Soil Organically
Improving soil biology with organic matter can be done. You don't have to use harsh chemicals to have a healthy lawn.
In fact, the best lawns promote an environment where organisms in the soil thrive. In return, these organisms reward your landscape with fertile, aerated, and healthy soil.
Make your landscape organic and be safe. Organic matter is the healthiest way for you and the environment to dial up the beauty of your landscape. Using it to feed your yard will create a lush and vibrant look without chemicals.
Organic matter also increases your landscape's sustainability. It cuts down on your need for overall maintenance. Over time there will be fewer weeds, thicker grass, and heartier plants.
It's crucial to incorporate enough organic matter before establishing any plants and shrubs. Having the right amount of organic matter in your landscape will help to boost your soil's:
· Capacity to hold water
· Temperature
· Oxygen levels
· Root penetration
· Nutrients and nutrient capacity
Many properties have drainage issues. Finding solutions to drainage problems keeps your landscape from retaining too much water. Standing water or areas that flood lead to erosion.
If your property is near a flood zone, a lawn maintenance plan could be best suited for you. Experts use tested and proven ways to prevent water damage and flooding on your landscape.
Regular inspections of your property are highly recommended. They help spot issues before they become difficult to handle.
Integrated pest management will keep pests at bay allowing your plants to thrive. Your estate account manager and landscape service professionals will update you with concerns.
If you already have pests, a landscape maintenance plan will offer environmentally friendly ways to fix your issue.
Make your landscape work for you by adding value to your property year after year.
An estate maintenance plan is an investment in your property's future. Watch it bloom and grow each season with the help of experts you can trust.
Sponzilli Landscape Group offers state-of-the-art lawn care services and maintenance plans. With 50 years of experience, our professionals have become a trusted source for quality in the landscaping industry.
Contact us now for a customized estate maintenance plan that will increase your landscape's beauty while adding value.