Editor's note
This blog was originally published on April 9, 2015 and has been updated to include new information and additional images.
Design trends show that more homeowners want functional outdoor space to unwind and entertain. This desire has significantly increased the popularity of outdoor kitchen designs and installations.
A well-designed outdoor kitchen can increase your living space, make entertaining easier, and add to your property's value.
Whether you are throwing a party or making dinner, your outdoor kitchen and grill are a great place to prepare meals for you and your guests.
Here are some ideas to consider when creating an outdoor kitchen design:
What Goes into an Outdoor Kitchen?
Many people are opting to design their landscapes with a culinary flair in mind.
Some of the most popular items in outdoor kitchen design include:
Built-in grills with searing capabilities
Stovetop-style side burners
Griddles
Full sinks and dishwashers
Outdoor cabinetry for storage and organization
Refrigerators, freezers, and ice chests
Granite counter space for prep work
Bar-height counters for seating and entertainment
Your outdoor kitchen design can mirror the elements you like most inside. It can also incorporate appliances that are best used outdoors, such as smokers and pizza ovens.
Planning Your Outdoor Kitchen Design
Properly planning the layout of your outdoor kitchen is essential to its functionality.
During the planning process, consider the flow of your property. Remember to think about the scape of your yard, the layout of your home, and barriers to privacy you might face.
Take environmental factors, such as wind and sun, into account in your outdoor kitchen design. A breeze that's constantly blowing smoke into the grill master's face makes grilling an unappealing activity. As does the blinding glare at sunset. That glaring sun is a particularly important consideration during the shorter daylight hours of spring and fall.
Choose a central point, such as the grill or fireplace, and build on design concepts that develop your main focus.
Kitchen designer Dawn Whyte recommends creating four distinct activity zones:
Prep zone
Cooking zone
Clean-up zone
Serving and entertaining zone
Include the following essentials in your outdoor kitchen for easy prep and clean-up:
Ample storage space. Having dishes, glassware, and eating utensils dedicated to outdoor meals stored in your outdoor kitchen reduces steps and saves time. The same goes for cookware and cooking utensils. Include at least two drawers in your outdoor kitchen design for storage.
A warming drawer lets you keep food warm while the rest of the meal is still cooking.
Adding an outdoor dishwasher lets you enjoy the party (or the sunset) while cleaning up. It's also easier for others to help without feeling like they're missing the party.
An ice maker lets you serve refreshingly cold beverages along with those delicious grilled meals. You could haul ice from your kitchen or buy it each time, but an ice maker is much more convenient and surprisingly affordable.
Adequate electrical outlets near countertops are essential for small appliances.
Planning the perfect outdoor kitchen is a complex task. Water, gas, and electrical contractors will be involved throughout your project. A landscape designer will coordinate the proper services to complete renovations and stay on budget.
A professional landscape designer will also attain appropriate local permits and inspections. They will have the knowledge of how to keep your home in compliance with township and city ordinances. Don't make the mistake of having an outdoor kitchen that doesn't add value to your property because it is not up to code.
Entertaining in Your Outdoor Living Space
Incorporate items into your design that will accommodate your guests and create the living space that you desire.
Plenty of seating is a must. Outdoor dining areas are just as popular as kitchens. They are the perfect way to extend your home outside.
Add a pergola or pavilion to shade your backyard's top chef and avid foodies. Create an even more engaging experience with a visual and sound home entertainment system.
And don't forget the lighting! Outdoor lighting will increase the amount of time you can spend outdoors. It will add safety and ambiance to your design.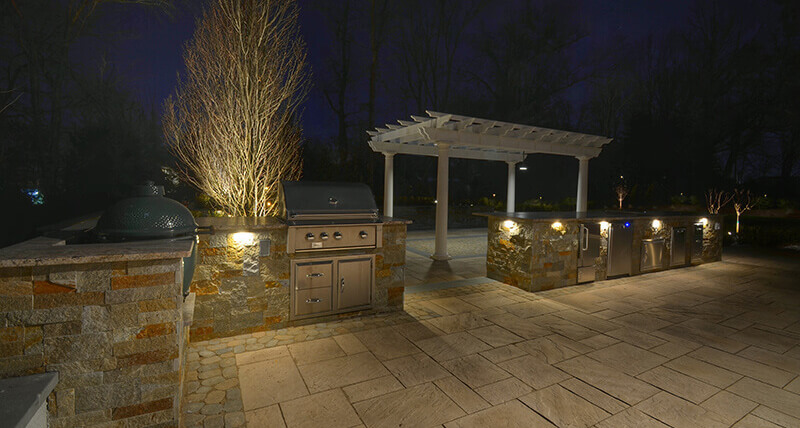 Mistakes to Avoid in Outdoor Kitchen Design
Learning from someone else's mistakes is a lot quicker, easier, and cheaper than learning from your own.
The BBQ Guys have rounded up some of the worst mistakes to help you avoid recreating someone else's disaster.
If you don't properly insulate your grill, you may end up with flames where you least expect them.
Natural gas rises, while propane gas sinks. If you don't allow for plenty of ventilation panels, you could end up with a very dangerous situation.
Indoor appliances can't stand up to outdoor conditions. You'll void your warranties and end up replacing them frequently.
Design separate areas for hot and cold appliances. They will run more efficiently.
Incorporate enough storage space to meet your needs. Note: Those 'empty' spaces under the sink and grill are not the best storage options due to pipes and hoses.
Get the outdoor kitchen you have always wanted. Contact us for more information about making your outdoor kitchen design and installation stand apart.
For more outdoor kitchen design ideas, visit our project gallery.
BONUS: Here's What We're Grilling
Try grilling your produce for a taste sensation you can't get when cooking indoors:
Vegetables take relatively little time to cook which makes them a quick and easy outdoor meal. Veggie options that cook well on the grill are pretty much endless. Vegetables like corn-on-the-cob, Japanese eggplant, and even Romaine lettuce are great options.
Fruits like cantaloupe, peaches, pineapple, and plums develop a whole new dimension of flavor and texture when grilled. Try combining grilled fruit with yogurt or ice cream for a simple, yet satisfying, dessert.