Whether you like to unwind poolside with an ice-cold beer or curl up next to your spouse at the end of a long day by a fire, we'd like to introduce you to the benefits of constructing a beautiful backyard pavilion that suits your relaxation style.
You know that saying "Rain, rain, go away"? In the Sponzilli family, we don't believe in letting a few drops of New Jersey rain ruin our fun. We love gathering outdoors, cozying up next to a covered firepit, and watching the kids catch raindrops on their tongues just a few feet away.
Since we have added covered pavilions with solid roofs to our landscape design, we have been able to extend family gatherings well beyond the 206 days of sun that Northern New Jersey gives us.
Think you and your family could enjoy that too? Our team of landscape architects can help you personalize your outdoor space.
Discover how to build your backyard oasis from the ground up and get inspired by our list of pavilion design ideas based on 5 different lifestyles.
We have one for the home chef, the high school sweethearts, the superfan, the yogi, and the life of the party. If you're any one of those, keep reading.
But first… why pavilions?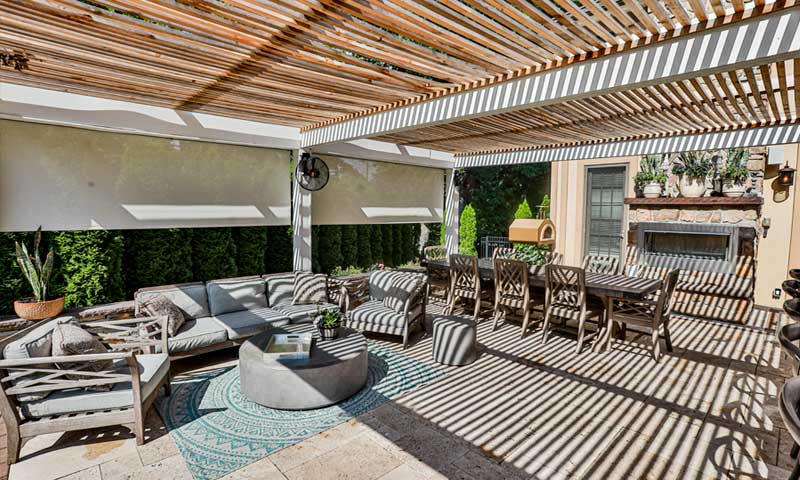 Beautiful backyard pavilions extend the fun from inside to the great outdoors.
Let me know if you have been here. You look at your house before hosting a holiday and wonder where in the world you're going to put everyone.
You worry about not having enough space to eat, to entertain, and after the hosting is done, to get away. What we often forget to do is look out the window.
Extending your space can be as simple as moving the party outdoors. Rather than crowding around the dinner table, your guests can enjoy their tasty outdoor meal under a sturdy, shady, and spacious shelter full of comfy seating.
You and your guests can party all night, or rest easy, under your roof (even when that roof is outdoors).
Covered areas in your backyard keeps you comfortable in rain or shine, sleet, or snow.
You will seldom have to worry about the weather when you have a pavilion in your backyard.
In addition to giving us extra space to entertain and relax, these enclosed outdoor areas provide cover from the elements. They can keep us cool in the summer and warmer in the winter.
Avoid poolside sunburn on a warm day by dipping under its cover for a bit. Sip a margarita at your built-in mini bar until you are ready to dive back in.
Enjoy a romantic rainy evening in front of your outdoor covered firepit. Then, hold your spouse tight when you hear the thunder roar.
Covered structures elevate your landscape design
Since pavilions are open-air, when you look out at your yard, you will have an unobstructed view. Whether you choose an attached or detached pavilion, you will be able to see your entire yard through its pillars.
At the same time, pavilions can also be a focal point in your landscape design. They make the perfect complement to a luxurious pool or blooming garden.
Pavilions add Personality
Your landscape design says as much about you as your interior design.
Pavilion sizes and styles are endless, so you can construct the custom finish you desire the minute you start conceiving it. 
Some popular backyard pavilion designs include:
Metal supports draped with light, flowing fabric curtains
Romantic white wood wrapped with ivy and fairy lights
Roman-Greco pillars with a modern feel
Alpine wood that embraces ski-lodge-chic
Whatever your style is, when you incorporate personality into your landscape design, you are bringing more joy into your home and increasing its value.
Choose a pavilion design that fits your landscape, lifestyle, and personality
Not sure where to start when it comes to creating your new backyard oasis? You already know that a pavilion can define an outdoor space while providing shelter and adding personality to your home.
So, how do you go about designing it?
The first step is to think about what matters to you. Cooking? Getting out of the sun? Gathering? Relaxing? Entertaining? Pavilions can do that all for you. It's just about constructing the right one.
Here's our list of 5 beautiful backyard pavilion design ideas for 5 different lifestyles:
1. The Home Chef's Complete Outdoor Kitchen
You consider yourself the Wolfgang Puck of the family. You love throwing BBQs and inviting over all your friends (and your friends' friends). You're a master at the grill, and you relish in watching fireworks go off while grilling 4th of July hotdogs.
Your pavilion will be dedicated to the outdoor kitchen of your dreams. Keep the sun out of your eyes and the elements away as you cook your heart out. Deck out your space with a wood-fired pizza oven and a functional fridge.
Your complete outdoor kitchen will be equipped with:
Spacious granite counters fit for food prep
A deep, industrial sink that makes cleanup quick and easy
A built-in grill
You'll be able to enjoy the delicious tastes and smells of summer all year long.
2. The High School Sweethearts' Romantic Fireplace
You and your spouse still can't get enough of each other. You like to dedicate at least one night a week to spending quality time with each other, away from the kids.
Under the cover of a romantic garden pavilion, you and your partner will snuggle up on soft couches to watch the sunset. Light up the fireplace for some warmth and set the mood with outdoor speakers.
Flowering vines, potted plants, shrubbery, and vertical-growing vegetables along the pavilion will give your backyard more privacy.
3. The Superfan's Backyard Entertainment Center
You destroy in fantasy football and are known for hosting the best Super Bowl parties.
You might choose to set up an attached pavilion right next to your house to maximize your yard space, giving you more room for pop-up scrimmages in the grass. Your pavilion isn't complete without a projector on a wall where you can watch every game on any game day. You even throw in heating lamps for extra comfort.
Above all, you have lots of seating and surfaces for serving up snacks.
You are all about tranquility and Zen. You need a spacious area where you can ground yourself in nature, even when the grass is dewy. You know firsthand that if you commit to an outdoor yoga practice and stay in mountain pose for a few seconds too long that you will get a mean sunburn.
Your covered pavilion exchanges patio furniture for comfy cushions. For maximum serenity, you construct it next to a relaxing water feature and opt for natural materials like wood and stone over metal.
5. The Life of the Party's Poolside Bar and Lounge
Two words. Pool Bar.
Your backyard is the best thing next to a free all-inclusive vacation.
Complete with lounge chairs, bar stools, and a bar counter, your pavilion is the perfect place to cool off and relax in the shade with a drink.
If your pool house wasn't already the envy of your friends, your attached poolside pavilion will be.
When it comes to pavilion designs, you could say our landscape architects have got you covered.
Whether you're gearing up for outdoor parties or redesigning your backyard to bring more Zen into your life, we're here to help you create the landscape of your dreams.
Contact us today to start building your personal backyard oasis.