Dividing backyard space for function and beauty begins with deciding which unique spaces will be most beneficial to you. Have you always wanted a garden or are you looking for a space for meditation? After you have thought about what would go into your oasis, it's time to consider how to create a functional backyard.
Your house is divided into rooms. Your yard will be more interesting and functional if you divide it into areas. But where to begin? Here's how to divide a large backyard space!
Space for Children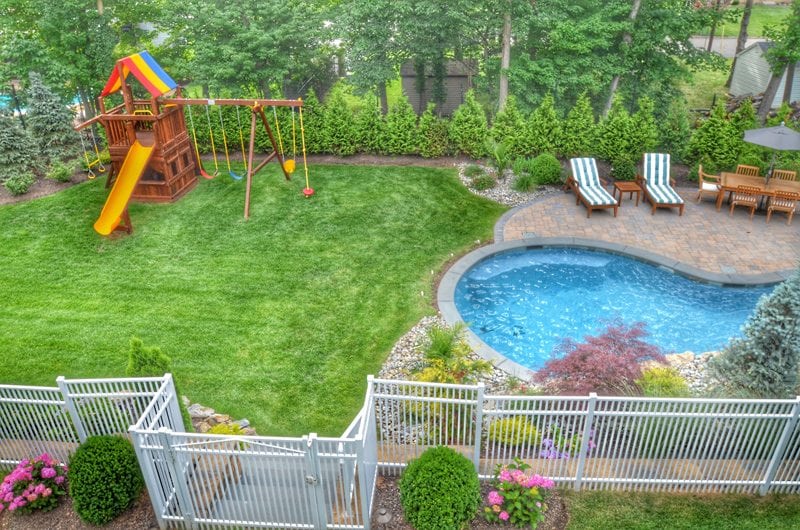 If you have children or if children visit frequently, you will probably desire a play area. A grass surface is ideal for cushioning falls and allowing for safe roughhousing.
Utilize what you already have in your yard to make this area special.
A large tree can provide the perfect spot for a treehouse or swing.
Landscape lighting can keep this space accessible even after the sun goes down.
You will want to choose plants for this area that are not delicate. Although debris may be less of an issue for this space, fragile plants may not hold up to the onslaught of foul balls, frisbee dives or hide-and-go-seek games.
When choosing the area for your kid friendly outdoor living space, think about your vantage points to the yard. Place your play area in a part of your landscape design that can be easily seen from the other areas of your space. Then you can keep an eye on the kids while you relax in the hot tub, garden, or grill in your outdoor kitchen.
Space for Quiet Reflection
A meditation area needs to be secluded and beautiful. Choose the quietest area of your lawn — away from street sounds and noisy neighbors.
Hedges and lattice fences make attractive walls. You can train climbing hydrangeas, ivy, and morning glories to grow up a lattice fence. Add plants and flowers according to your taste; get creative in this area.
Include secluded seating with a permanent bench or a space for chairs.
Make your quiet space inviting with an arbor, fragrant flowers and soft landscape lighting.
Ornamental lawn objects including fountains and bird feeders can help "furnish" your reflection room.
Use the shade of a tall tree or a canopy to get out of the sun and relax.
Trendy Outdoor Space Ideas 
Gardens are among the most popular outdoor design elements, and when discussing landscape ideas to divide yards, the most sought-after gardens include organic fruits and vegetables. Other trends include the following:
Firepits are particularly "hot" today and range from large, inground pits to those that can be placed on an outdoor table.
Fountains and other ornamental water features are striking focal points as well as musical.
Hardscapes such as stacked stone retaining walls, meandering gravel paths, and paver patios make an attractive contrast to soft greenery and plantings, giving your lawn a professionally planned look.
Decks extend your living space into the outdoors and are great for entertaining. Choose a low-maintenance surface such as composite materials instead of wood that is higher maintenance.
Arbors are romantic and beautiful transitions between outdoor spaces.
Poolscape Plans
If you already have a swimming pool, or are planning on incorporating one into your backyard transformation, it's important to consider how it will mesh with the rest of your outdoor space.
Safety and privacy are of the utmost importance in poolscapes and can be achieved with fences and greenery. Maintaining a pool can seem like a full-time job if the space is not designed correctly. Utilize a fence that will help keep unwanted pool debris created by leaves, needles, and petals, from constantly disrupting your swim time.
You will want some greenery and flowers in your poolscape but seek advice about which plant varieties will create the least debris. The surface of the pool area needs to be slip-resistant but, that doesn't mean it has to be ugly or boring.
When choosing the best design for your backyard, be sure that your space can be utilized to effectively achieve continuity throughout your landscape design.


According to washingtonfederal.com  backyard projects with the best return on investment include outdoor lighting, adding or upgrading a deck, planting windbreak and shade trees, and adding an outdoor kitchen.
Backyard Landscaping Services
A professional landscaper is your best resource for creative and beautiful ways to add outdoor "rooms" to your yard. Our team will meet with you to discuss your tastes, budget, and degree of maintenance you desire when offering suggestions. Contact us for more backyard space ideas or to learn more about our backyard renovation services!